by Ed Sawicki - March 21, 2016
updated December 2019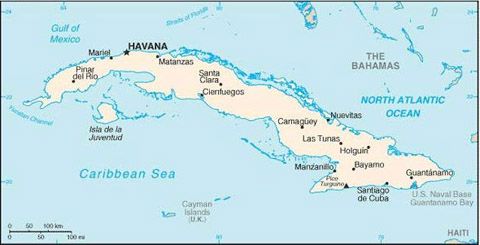 President Obama's visit to Cuba is long overdue. We should have reconciled with Cuba immediately after Russia pulled out of there in the early 1990s. We didn't because the Cuban community in Miami is powerful politically and they didn't want reconcilliation as long as the Castros were still in power.
Since Cuba has been isolated from the U.S. for over 50 years, here's a table of data to get you up to speed. I'll be adding data here as well as commentary as I find it.
U.S.
Cuba
Population
318.9 million
11.27 million
Suicide rate
12.1
11.4
Global Peace Index
(lower number is more peaceful)
94
82
Human Development Index
(higher number is better)
0.915
0.769
Economic
Gross Domestic Product (GDP)
$17.42 Trillion
$78.69 Billion
GDP growth
2.0%
4.7 %
Public debt
(% of GDP)
104.5%
35.3%
Inflation
0%
4.4%
Percentage of population living
below poverty line
15.1%
1.5%
Moody's credit rating
Stable
Positive
Literacy rate
86%
99%
Unemployment
4.9%
3.8%
Health Care
Infant Mortality Rate
(deaths per 1000 births)
5.87
4.63
Health Care Cost
(% of GDP)
16%
7.3%
Number of doctors
per 1000 people
2.5
6.72
Life expectancy
(average of male and female)
78
79
Guns
Guns per 100 people
112.6
2.0
Gun deaths per 100,000
(annually)
10.54
under 0.1
Military
Military spending
(% of GDP)
3.5%
3.5%
Military service
volunteer
2 years
Note
Cuba became communist in part because of the massive corruption caused by U.S. companies bribing the Batista government. President John Kennedy realized this. He said of Castro:
"I believe that there is no country in the world including any and all the countries under colonial domination, where economic colonization, humiliation and exploitation were worse than in Cuba, in part owing to my country's policies during the Batista regime. I approved the proclamation which Fidel Castro made in the Sierra Maestra, when he justifiably called for justice and especially yearned to rid Cuba of corruption.
I will even go further: to some extent it is as though Batista was the incarnation of a number of sins on the part of the United States. Now we shall have to pay for those sins. In the matter of the Batista regime, I am in agreement with the first Cuban revolutionaries. That is perfectly clear."
References
NIH: Cuba's health care policy: prevention and active community participation
The Atlantic: How Cubans Live as Long as Americans at a Tenth of the Cost
— END —