Yanis Varoufakis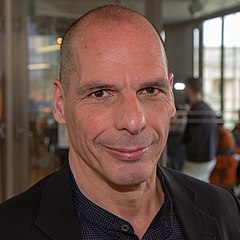 Yanis Varoufakis is a Greek economist and politician who served as Minister of Finance of Greece in 2015.
Notable quotes
"When some corporation goes bust, who gets paid first amongst the creditors is a political decision. So why not change it? Why have the bankers get paid first and the workers last?" Video
Lectures
Oxford Union: Full Address & Q&A
Cambridge Forum: Is Capitalism Devouring Democracy?
TED: Capitalism will eat democracy -- unless we speak up
Google: And the Weak Suffer What They Must?
New York Public Library: Yanis Varoufakis with Professor Noam Chomsky (April 2016) | DiEM25
The New School: Yanis Varoufakis: The Future of Capitalism
The New School: Yanis Varoufakis on Talking to My Daughter About the Economy (May 2018)
Politics and Prose: Yanis Varoufakis (June 2018)
Sources
Wikipedia: Democracy in Europe Movement 2025
Wikipedia: MeRA25 (European Realistic Disobedience Front)
open Democracy: Will MeRA25 bring the bright day that Greece has been waiting for?
NY Times: Yanis Varoufakis: No Time for Games in Europe