The People's Media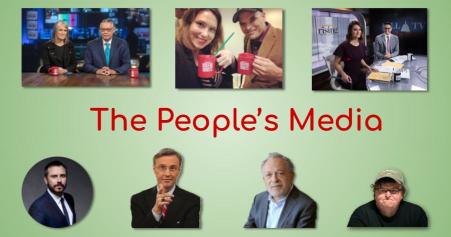 I know people who spend hours every day watching CNN and MSNBC. Yet, when we have political discussions, it doesn't seem like that time spent is paying off for them in terms of increasing their political, social, and civic knowledge by a corresponding amount. Watching these networks seems to only be maintaining an existing worldview that's not helping to solve our serious problems. That worldview has been cultivated by the corporate media ever since Ronald Reagan and Newt Gingrich turned Americans against their government and, ultimately, against their democracy.
When I suggest that they can watch better news and information shows, some ask for suggestions - others ignore me - or worse. Here are the shows and podcasts that I suggest. There are more but those listed here are a good start.
There's a wealth of information that's far better than the corporate and party-controlled media.
Democracy Now!
Democracy Now! is a daily weekday show that has been broadcasting since 1996. The show's hosts are Amy Goodman and Juan Gonzáles. The show is supported entirely with donations so there are no commercials. Its format splits the show in two. The show begins with news of the day then proceeds on to very detailed coverage of a select topic that is often linked to a current event.
Unlike most U.S. commercial news stations, Democracy Now! news coverage is international. It's common to hear news about, say, Pakistan, Japan, and Bolivia along with U.S.-centric news.
You can watch on the show's website. You can install their app on your Apple iPhone or iPad. There is no app for Android.
Here's the show's Wikipedia page. Here's Amy Goodman's Wikipedia page.
Robert Reich
Robert Reich was Secretary of Labor during the Bill Clinton administration. He is one of the best sources for information about our democracy, the economy, and politics. He's written many books, published many videos, and made a movie. His videos should be part of your learning process, especially if your politics is "moderate".
Your best and quickest introduction to Robert Reich may be to watch his 2013 movie, Inequality For All, available on Netflix.
You can access his videos from Robert's web page. Here's his Wikipedia page.
Rising
In June 2018, The Hill newspaper launched a news show called Rising. The show's current hosts are Krystal Ball and Saagar Enjeti. Krystal is a progressive and Saagar is a conservative. The show's format has each present a monologue on a topic (they refer to it as "being on their radar"), then they both discuss the topic, usually agreeing but sometimes not. Even when they disagree, the atmosphere is collegial. If only our political parties could behave this way.
I have to remind myself from time to time that Saagar is a conservative. He doesn't sound like the nutjobs we've come to expect from right-wing media.
Republicans and "moderate" Democrats may dislike Krystal's take on politics. Some insult her by saying she has a stripper's name, implying a shallow knowledge of politics. Her family name is Ball and her scientist father named her after his specialty - crystals. Krystal's knowledge of politics seems to exceed that of the talking heads on CNN and MSNBC and she sounds more intelligent because she's not pushing an obvious (to me) corporatist agenda.
You can watch the show on the show's website or on their YouTube channel. There are no apps yet.
Here's the show's Wikipedia page.
Thom Hartman
The Thom Hartman Program is a weekday progressive radio talk show. The show is live from 12:00 to 3:00 pm Eastern Time and is available as a podcast. The show is funded by subscribers and a minimum of advertisers.
There's an app for the Apple iPhone and iPad as well as Android. You can also tune in to his show on SiriusXM Progress 127. You can access all of Hartman's shows and videos with your web browser.
Thom Hartman's video about FDR's New Deal may be useful.
Here's the show's Wikipedia page.
Intercepted
This weekly podcast is hosted by investigative journalist Jeremy Scahill. The podcast began in January 2017. Many Americans first became aware of Scahill in 2008 when he published his first book called Blackwater: The Rise of the World's Most Powerful Mercenary Army. At the time, he made several appearances on news shows, such as on CNN and MSNBC. Check out his Wikipedia page for more of his credentials.
If you're a "moderate" Democrat now, this is not the podcast for you yet. Your head will explode. You need to move a bit more to the left (to the light) before you're ready for Jeremy's harsh criticism of establishment party politics.
You can access all of the episodes by subscribing to the podcast on your phone or tablet or using your web browser.
Rumble with Michael Moore
Michael Moore's podcast called Rumble started in December 2019. He originally intended that there be weekly episodes but new episodes appear almost daily. Each ranges from about 30 minutes to almost 2 hours. Most episodes relate to politics and he occasionally has guests, such as Daniel Ellsberg, Robert DeNiro, Anand Giridharadas, Ralph Nader, Jane Sanders, Naomi Klein, and others.
If you just now subscribe, be sure to start with episode 1, even if you're not going to listen to them all. Oh, also be sure to listen to episode 9, where he interviews Anand Giridharadas.
You'll probably listen to the podcast on your phone or tablet but you can also use your web browser.
Here's Michael's Wikipedia page.
Useful Idiots
The Useful Idiots podcast is co-hosted by Matt Taibbi and Katie Halper. The name of the podcast comes from the term that was used during the Trump impeachment hearings to describe Putin's exploitation of Donald Trump.
Matt Taibbi has primarily been a print journalist best known for his excellent work at Rolling Stone magazine.
You can find the Useful Idiots podcast on Apple, Spotify, or wherever you listen to podcasts. Alternatively, you can access the podcast with your web browser.
The podcast does not yet have a Wikipedia page. Here's Matt's Wikipedia page.
Yang Speaks
The YangSpeaks podcast features 2020 presidential candidate Andrew Yang. The emphasis is on policy and solving the country's problems. You can tune in to the podcasts via Yang's website and on Youtube.
Other sources
Some of these sources may not be entirely progressive but they are not progressive-hostile.
Hello Somebody with Nina Turner
PRESS THE BUTTON by the Ploughshares Fund. Focus is on the threat of nuclear weapons.
The Majority Report with Sam Seder
—END—