Chris Emery
by Ed Sawicki April 17, 2018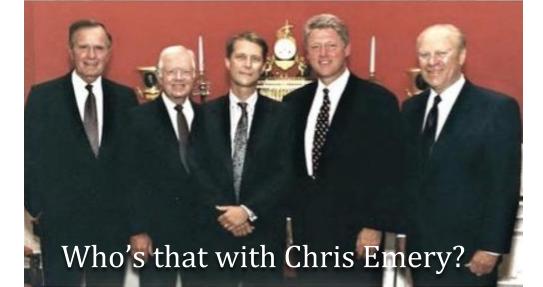 George H.W. Bush, Jimmy Carter, Chris Emery, Bill Clinton, and Gerald Ford
A few days ago, I reconnected with a person that I haven't spoken to in 22 years. I found him thanks to Google and Facebook. His name is Chris Emery, and he's one of my more interesting past acquaintances. He was an Usher in the Reagan-Bush-Clinton White House.
The attached photo shows him in the center with four other guys you probably recognize.
In mid-1993, I taught a 3-day class on Novell NetWare (computer networking) in Crystal City, Virginia - a suburb of Washington D.C. One of my students was a fellow named Chris Emery who worked at the White House. Chris had installed a NetWare network in the office of the President in 1986 (Reagan). He was about to install another network in the White House Executive Residence (Clinton) when I met him.
At lunch one day, he told me that both Barbara and George H.W. Bush relied on him for their computer support. Barbara was a novice at computers and needed lots of hand-holding. Her Grid Compass notebook (with the cool magnesium case) was challenging for her. George was also somewhat computer illiterate.
I brought up the incident of George encountering a supermarket scanner for the first time a year earlier at the National Grocers Association convention in Orlando. Chris and I laughed, but he was still respectful of his president. He made no remarks to me that disrespected the first families that he served. He was apolitical when dealing with me. He was a professional.
Although the Bush administration had ended and Chris was now an Usher in the Clinton administration, he told me that Barbara had called him with computer questions and he tried to help her by telephone.
Chris invited my wife and I to visit the White House. That would be cool. An usher's tour. We planned to take him up on his offer but we had young kids so the visit would have to wait for an east coast trip when we could arrange child care. As a result of this future trip to the White House, I kept track of Chris.
In March 1994, I read that Chris was fired from his White House job. The press reported that he was fired by Hillary Clinton. I thought it was odd that the White House identified the First Lady as the one who fired Chris and not the president.
The reason for his firing according to the White House? Helping Barbara Bush with her computer questions. That was the first time I had personal experience with just how petty politics and politicians could be.
P.S.
Chris wrote the book White House Usher: Stories from the Inside in 2018. Barbara Bush wrote the Foreword and ended by saying this:
"Even after we left town, I would call Chris and ask him to solve my computer issues. (And there were many.)"
No mention of Chris being fired for it. No regrets. Odd.
Sources